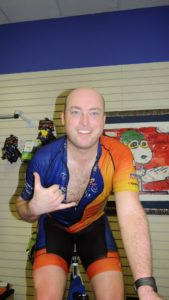 Travis Pope is a big guy with a big engine. He loves to ride, loves to race, loves Xert, and he loves to train with it. He has been a client for years, but has suffered several crashes that left him on the sidelines. It also affected his training consistency.
But this year has been a different story. Travis has trained consistently. In early June, he bought a Garmin 1000 and began training with Xert Fields.
Last night, it all paid off!
The Race According to Xert
Using his Xert Signature, Travis raced a Criterium event here in Dallas, TX. For almost 30 minutes, he averaged 246 watts, but his "Xert Equivalent Power", or XEP, was 333 watts! XEP is a way to determine just how hard a ride or effort actually FELT. Wattage in a criterium event is incredibly stochastic, with lots of coasting, and lots of short, hard efforts. XEP is affected by intensity. The more time a cyclist spends near MPA, the higher the XEP will be. This was a REALLY hard effort, and he used his knowledge of his abilities through the Xert apps and signature, to score a prime (a prize given away in the middle of a race), and then to win.
The Xert Signature that Travis used showed the following values. Remember, this was before the race itself.
MPA (Max Power Available) = 1338 Watts
HIE (High Intensity Energy) = 27.6 KiloJoules
Threshold Wattage = 304 watts
Travis weighs around 200 lbs (91 Kg), so that makes for a Power-to-Weight ratio at Threshold of roughly 3.35 w/kg. This is good, but I think he will continue to improve as his cycling continues and his weight drops further.
The Importance of High Intensity Energy (HIE) and Xert
What is more important is his HIE value. HIE, or High Intensity Energy, is the amount of energy a cyclist has available when pedaling really hard. It drops as the effort is extended, and it comes back when the cyclist backs off and recovers. It's tied in with with MPA. For recreational cyclists or competitors, HIE may be the most important metric to work on improving. Below is a history of Travis's HIE and Threshold, starting in May of this year.
May 20th: HIE 16.1kj, Threshold 277 watts.
June 10th: HIE 21.0kj, Threshold 288 watts.
June 21st: HIE 25.5kj, Threshold 298 watts.
July 12th: HIE 28.7kj, Threshold 306 watts.
August 1st: HIE 27.6kj, Threshold 304 watts.
August 11th: HIE 28.9kj, Threshold 307 watts.
Over the course of four months, thanks to a solid combination of focused intervals, Travis saw his anaerobic capacity (HIE) grow 45%!! His Threshold grew by 10%! This translates into an ability to perform harder efforts, recover faster, and ride longer aerobically
Time spent pedaling under Threshold does not require HIE energy. So Travis literally increased his capacity toboth aerobically and anaerobically, thanks to Xert fields. His Garmin literally told him how hard he was working, what his "Focus" was, how much energy he had left, and whether he was close to a fitness breakthrough. Having that information on-screen motivated him to work harder. When he had a breakthrough, the next series of intervals got even harder This pattern continued throughout the summer, and Travis' result is the podium.
But it gets even better.
In the race, Travis used the Xert fields in real-time, thus becoming arguably the smartest cyclist in the group. Take a look at the attack he made to win the prime, and then split the field.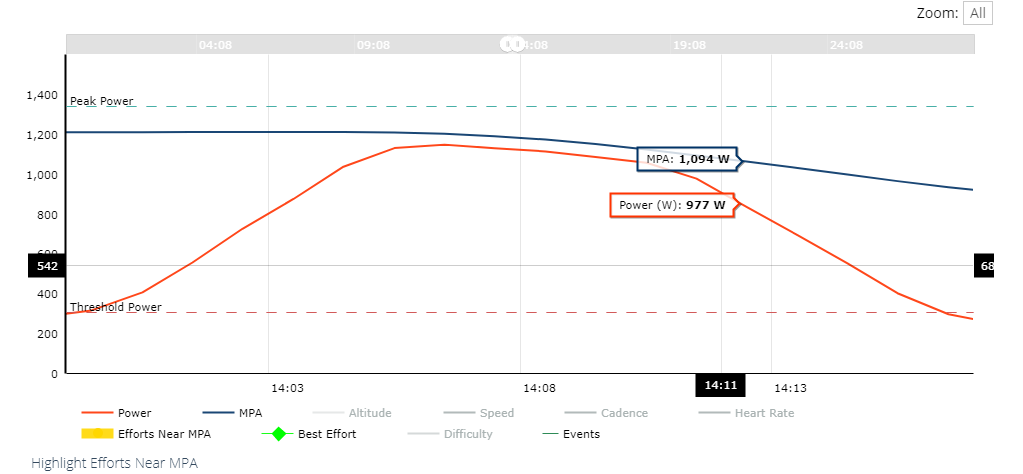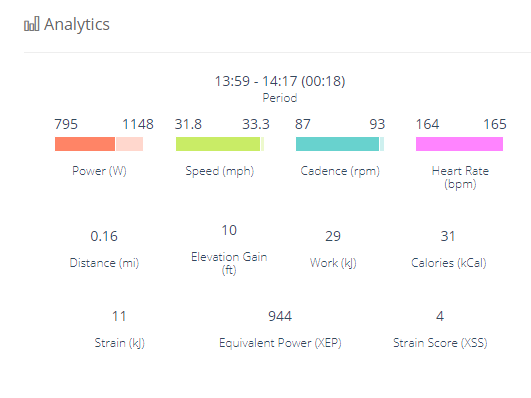 Using Xert's MPA to recover from an effort
Travis knew what his limits were. He also knew that if he attempted a breakthrough at that moment, he probably would not be able to finish the race near the front—yes, Xert can be that accurate. Look at how close the blue (MPA) line is to the red (wattage) line. Travis was not quite at his limit, but he was very, very close. He was able to win the prime, then sit in and recoverwhile the race continued. Incidentally, recovering his MPA back to near-full values  took almost ten minutes.
When the final part of the race began, Travis used his Xert knowledge to best effect. He was confident in his abilities, and knew he had recovered most of his MPA. For 51 seconds, Travis averaged 700 watts, and then drew down his MPA in just the the final eight. He literally "Left with Nothing Left!," which again, is my motto.
The Fitness Breakthrough!
After the race, this was the Instant Message I received...
Controlling Consistency With Indoor Training on PerfPro While Using Xert
What were those mix-mode intervals he mentioned? They're right here:
Here's how his most recent set of these looked earlier in the week.
The controlled duration of the intervals and their recovery gives athletes the ability to increase their intensity. It's those moments of intensity that create physical and physiological gains. There's also a huge boost in confidence, which you can see on Travis' race chart. He knew what he could do, he knew how to apply it, and he went when he could. No one else in the race had that preparation or insight, and the results showed it.
So here's the moral: get the most out of your training hours. Perform better when cycling. You don't need to even be a competitor to enjoy Xert. You just need a smart Garmin head unit, a quality on-bike power meter, an indoor ergometer, and a coach who will help you understand the benefits of indoor training with PerfPro and Xert. One is a platform, the other is a tool, both re available on a free trial basis, The knowledge you'll gain from this will revolutionize the way you think about training, about cycling, and about yourself as an athlete.
As always, I'll write more posts, but I want to hear what you have to say, so leave a comment or question, and let's start the dialogue. Thanks for reading!